Posts Tagged kits
Welcome to SaskView on the InterWeb!
Some folks are hesitant to buy a Useless Machine kit because they don't know how to solder.  If you feel this way, you should check out the above video (link).   Brett W. is the Dad in this video and you can read about this and other great hacking over at his site, FightCube.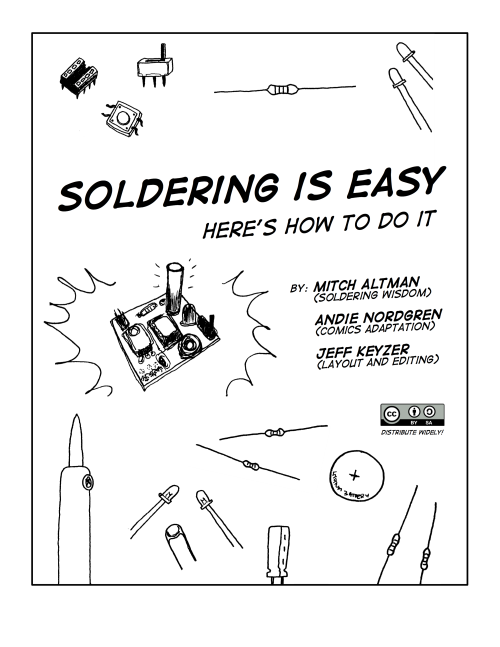 Learning how to solder is as easy as reading a comic book:  You can download a PDF of Soldering is Easy over at The Mighty Ohm.
The basic principles of soldering only takes a few minutes to learn.  And if I can do it, anyone can.
What are your thoughts, is five too young an age to be soldering?
Video via Hackaday, Comic via Makezine Blog.
The perfect gift for that special someone who already has everything!
Although everyone wants a Useless Machine, not everyone is as into DIY as I am.  So I'm hoping to have assembled Machines as well as complete kits for sale SOON.
Finding a company to partner with that can put together a complete kit including the wooden case and all the hardware has been a struggle.
Ideally the kit will include everything needed:  box, arm, switches, battery holder as well as a gear motor that needs no modification.  The only tools needed to build the kit are a soldering iron, small screwdriver, and glue (a wire cutter/stripper is handy but not needed).
It looks like things are going to go forward.  We may have to initially offer a continuous rotation servo because the gear motors may be delayed.
Prices haven't been finalized but I'm hoping the kit will be under $50.00 plus shipping.
If you want to be notified when the kits are available please send an email to:
I will also be offering a limited number a fully constructed Useless Machines.  To be notified for the next production "run" please send an email to:
.